Legal and Privacy Policy
Privacy Policy
MemoryMixer Privacy Policy (Effective March 17, 2006): MemoryMixer is committed to safeguarding your privacy and upholding the highest levels of information security. To that end, the company has used its best efforts to adhere to the strictest consumer privacy guidelines and uses state-of-the-art security technology to protect any information you provide to and through MemoryMixer's web site, MemoryMixer.com ("MemoryMixer.com").
Information you will be asked to provide when using MemoryMixer.com: All users outside of the United States should understand that all information shared during the registration and reservation processes is sent to and stored on secure servers.
Viewing your profile and changing your personal information: Once a Registered User logs in to MemoryMixer.com, that user can view their personal information stored by MemoryMixer by clicking on the "Login" link at the top of the page. Every user is able to view and change the following personal information: the user's name, email address, password, phone number, address (if it has been provided by the user), and whether that user would like to receive email from MemoryMixer. The user at anytime may request that all of the user's personal information be returned to the user, which may be accomplished by contacting MemoryMixer.
How MemoryMixer uses your personal information: MemoryMixer will never sell, rent, loan or otherwise distribute any of your personal information (including but not limited to your name, email address, phone number or any other identifiable information about you) to any third party without your expressed written consent.
MemoryMixer does use aggregated data (based partly on IP addresses of web site visitors) collected through its web site to analyze usability, performance and trends. While this data, in its aggregated form only, may be shared with third parties with whom MemoryMixer works to analyze it, the data will only be shared under the strictest terms of confidentiality and will never contain any personally identifiable information pertaining to any user of MemoryMixer.com.
How MemoryMixer protects your registration information: MemoryMixer uses a state-of-the-art multi-layer encryption algorithm, which ensures that all of your user information is completely secure. In addition, MemoryMixer stores all your personal information on a secure server. MemoryMixer employs staff that regularly maintains the security of all personal information stored, and will continually monitor and implement changes and improvements that become available in the electronic data security industry.
Cookies, web beacons and logging: Log-in areas on MemoryMixer.com require that your browser accept cookies. A cookie is a small amount of information that is sent to your browser from a web server, and stored on your computer's hard drive. MemoryMixer use cookies to remind us of who you are and to verify that you're properly signed in. We may also use cookies from time to time to measure your response to new aspects of our site and/or email in an effort to continually improve our site's usability and our customer service.
Please be aware that a cookie cannot spread computer viruses, retrieve any other data from your hard drive, or capture your email address.
You can erase or block cookies from your computer if you want to (your help screen or manual will thoroughly explain this process), but certain MemoryMixer services and parts of the website may not work correctly or will not work at all if your browser is set to not accept cookies.
Changes to MemoryMixer's privacy policy: Any changes to MemoryMixer's privacy policy will always be posted to this section of the web site, along with the effective date of the new policy. All users should check this privacy policy page periodically to stay abreast of any such changes. MemoryMixer will never make changes to its privacy policy that violate any applicable privacy laws or commercial privacy standards.
Contacting MemoryMixer: If you have any questions or would like to provide feedback about MemoryMixer privacy policy, please contact MemoryMixer via email at [email protected].
---
---
---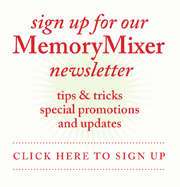 ---